Travelers with medical conditions should check out a new TSA medical notification card that can be presented to airport security screeners.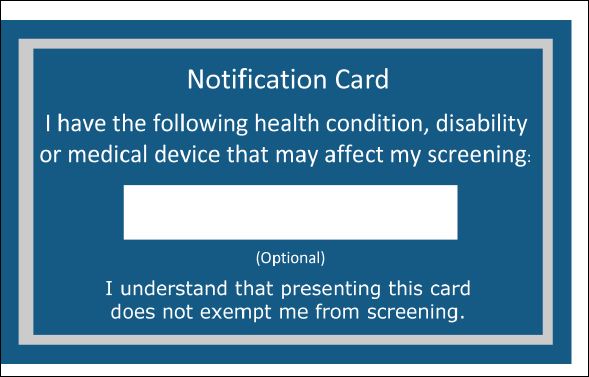 The new cards do not exempt a passenger from screening, but they do provide a way to discreetly inform and alert a security officer about a health issue, disability or medical device that may affect screening.
"Travelers can write their disability information on the wallet-sized card and hand it to the security officer," said TSA spokesperson Greg Soule. He said the agency worked with a coalition of about 70 representatives from disability and health organizations to develop the cards.
The TSA first released the cards in October to some disability rights groups and on disability.gov.
The wording on the front of the new TSA notification card says: "I have the following health condition, disability or medical device that may affect my screening" with a box marked "optional" for travelers to write in. Below that, the card reads, "I understand that presenting this card does not exempt me from screening."
The reverse side of the card reiterates screening may still be necessary and says the "TSA respects the privacy concerns of all members of the traveling public" and that "alternate procedures which provide an equivalent level of security screening are available and can be done in private."
Travelers can find more information about the cards on a link on the TSA's website under "Travelers with Disabilities & Medical Conditions."
'Great first step'
"Wow! I love those cards," said Kate Hanni of the airline consumer organization FlyersRights.org. "We receive complaints every day from folks with all types of disabilities who felt completely disregarded and/or violated during their security checks. These cards will be a great first step in alleviating the disabled flying public's concerns about their medical devices and the ability to communicate with the TSA before there is another disaster like Tom Sawyer and so many others have encountered."
If he'd known about the new TSA notification cards, Guenter Roesch, 71, and his wife might be packing for their vacation in Las Vegas.
The Roesches, of St. Marys, Ga., canceled their trip after they read about Thomas Sawyer, a bladder cancer survivor who was left covered in urine on November 7 at Detroit Metropolitan Airport following a security pat-down in which screeners refused to let him explain his medical condition. TSA Administrator John Pistole later called Sawyer to apologize.
"We'd finally saved enough frequent flier miles for the tickets," said Roesch. "But I'm also a bladder cancer survivor who wears an ostomy pouch to collect my urine. And I just didn't want to be put in the same situation as Mr. Sawyer."
Some doctors, patient advocacy groups and medical-equipment suppliers created their own notification cards and letters long before the TSA's new stricter security screening rules and enhanced pat-downs went into effect. But Linda Aukett of United Ostomy Associations of America  said: "Some TSOs (transportation screening officers) responded with 'Don't bother showing me that paper. Everyone has a printer. You could have forged that letter.' So that had a lot to do with the TSA coming up with its own card."
News to TSOs
Because the cards are so new, many airport security screeners haven't even seen them. Chris Soulia, president of AFGE 1234, a union representing TSA workers in California, Arizona, Nevada and Hawaii, said officers at many West Coast airports he contacted on Monday weren't yet aware of the cards.
But Soulia says he can't wait to see the cards in action. "Any mechanism that helps facilitate better communications between the passengers and the federal security officer to address a passenger's special needs is a great idea. This card is an idea long past due."
"I think doctors, nursing homes, rehab facilities and organizations with websites that get millions of visitors, such as Susan B. Komen [a breast cancer site], should know about this card," said Eric Lipp of Open Doors, a disability rights organization. He'd also like to see the card on airline websites.
In his phone call apologizing to Sawyer, Pistole asked for input on how the TSA can do a better job in its dealings with travelers with medical conditions. In response, last week a coalition of 24 patient advocacy groups sent the TSA a letter outlining suggestions that include better training for TSA employees, clear and uniformly applied policies "that reasonably limit the use and scope of pat-downs" and better publicity for the TSA's notification card.
Digging deeper
For his part, Sawyer is planning to fly to Washington, D.C., in January to meet with TSA representatives and give them his own suggestions for improved service.
"I think the coalition nailed it with their ideas," said Sawyer. "But I want TSA to dig deeper.
"I'm going to suggest that even without being handed a card, TSOs ask any passenger getting a pat-down if there's a medical condition they should know about."
Sawyer also plans to suggest that a nurse be available at all airports for travelers who'd like to request one during an enhanced pat-down, and that people with medical issues participate in TSA training.
"If TSOs knew the whole story, I can bet you a million dollars everyone would have a whole new understanding of why we're so sensitive about this topic," said Sawyer.
(A version of this story appeared on msnbc.com: TSA embraces new medical notification cards.)